I am a Professor at LTCI, Télécom ParisTech, Head of the Data, Intelligence and Graphs (DIG) Group at Télécom ParisTech, and a Scientific Collaborator at École Polytechnique. My research focuses on Machine Learning for Data Streams, Big Data Machine Learning and Artificial Intelligence. Problems I investigate are motivated by large scale data, the Internet of Things (IoT), and Big Data Science.
I am also co-leading the open source projects MOA Massive On-line Analysis and Apache SAMOA Scalable Advanced Massive Online Analysis.
What's new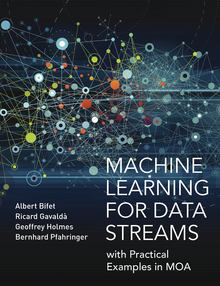 Series: Adaptive Computation and Machine Learning series
Hardcover: 288 pages
Publisher: The MIT Press (March 2, 2018)
Language: English
ISBN-10: 0262037793
ISBN-13: 978-0262037792
Today many information sources—including sensor networks, financial markets, social networks, and healthcare monitoring—are so-called data streams, arriving sequentially and at high speed. Analysis must take place in real time, with partial data and without the capacity to store the entire data set. This book presents algorithms and techniques used in data stream mining and real-time analytics. Taking a hands-on approach, the book demonstrates the techniques using MOA (Massive Online Analysis), a popular, freely available open-source software framework, allowing readers to try out the techniques after reading the explanations.
Latest publications
Albert Bifet, Jiajin Zhang, Wei Fan, Cheng He, Jianfeng Zhang, Jianfeng Qian, Geoff Holmes, Bernhard Pfahringer: Extremely Fast Decision Tree Mining for Evolving Data Streams. KDD 2017: 1733-1742
Albert Bifet: Classifier Concept Drift Detection and the Illusion of Progress. ICAISC (2) 2017: 715-725
Heitor Murilo Gomes, Albert Bifet, Jesse Read, Jean Paul Barddal, Fabrício Enembreck, Bernhard Pfharinger, Geoff Holmes, Talel Abdessalem: Adaptive random forests for evolving data stream classification. Machine Learning, Springer, 2017.
Heitor Murilo Gomes, Jean Paul Barddal, Fabrício Enembreck, and Albert Bifet: A Survey on Ensemble Learning for Data Stream Classification. ACM Comput. Surv. 50, 2, Article 23 (March 2017), 36 pages.
Diego Marron, Jesse Read, Albert Bifet, Nacho Navarro: Data stream classification using random feature functions and novel method combinations. Journal of Systems and Software 127: 195-204 (2017)